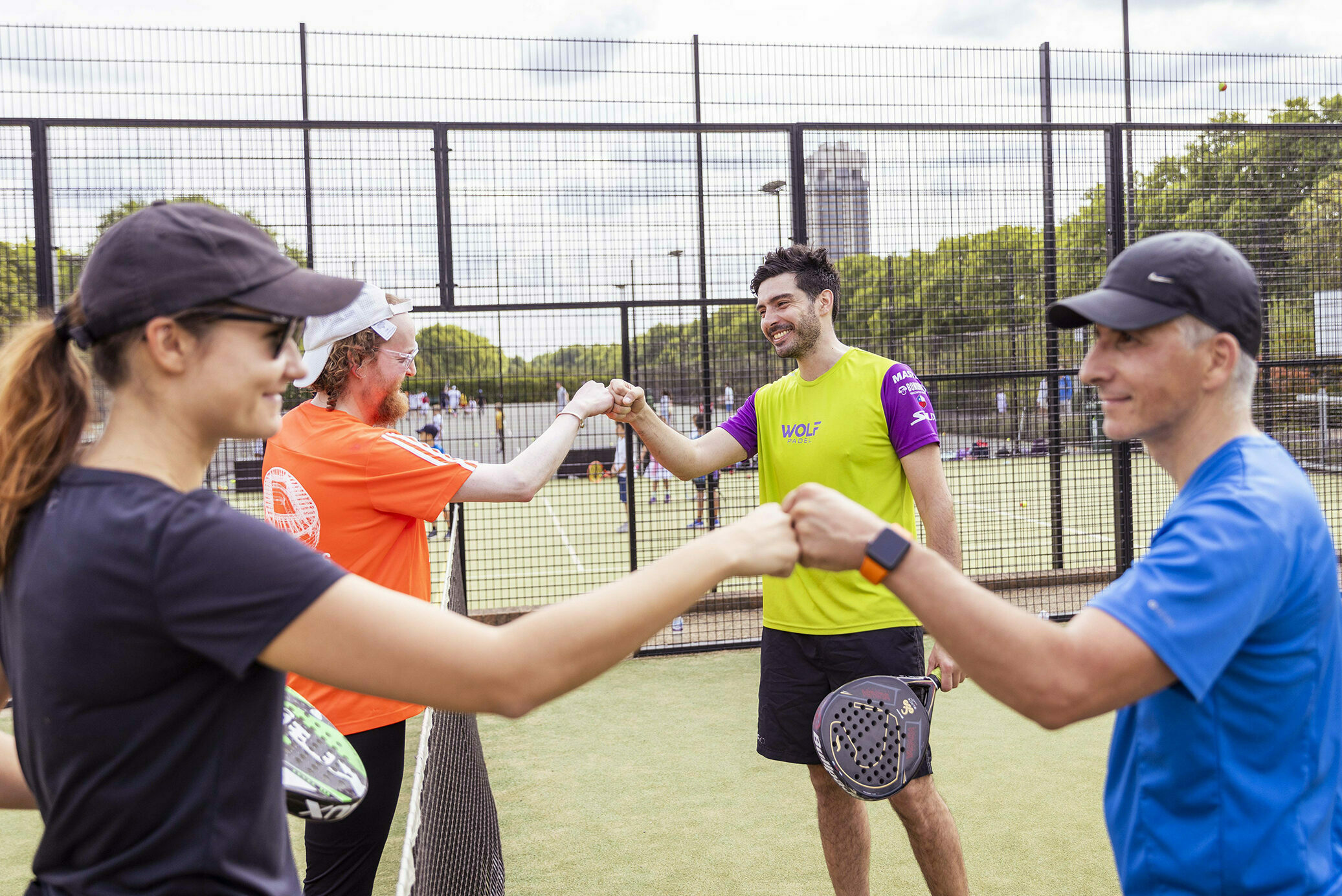 Adult Padel
Getting Started
Start Your Padel Journey
Padel is one of the fastest growing sports in the World, due to its fast pace and all action rallys - it's a social sport that's easy to pick up, but difficult to put down! Typically, games of Padel are played as 'doubles' on an enclosed court with glass and metal walls, similar in layout to a tennis court but about half the size. Just like squash, balls can be played off the walls.

An Introduction To Padel
We've put together a guide on how to play, the history of the game, our top Padel activities and a list of FAQ's with help from our friends at the LTA.
Park Sports was the first UK company to offer Pay & Play Padel and now has 3 outdoor, floodlit courts in Central London - and we are actively looking to add more!
At Hyde Park and The Regent's Park we have recently increased our programme, and now offer Coffee Mornings, Evening Socials, Mixed Socials and Match Play Weekly Drills for Beginners.

Invented in Mexico in 1969, Padel is a fusion of Tennis and Squash
Join a Padel Course
A fantastic way to train and improve your game. Learn with players of a similar level and get professional coaching advice from experienced LTA qualified padel coaches.
We offer 6-week Beginner Courses at Hyde Park and The Regent's Park for new padel players just starting, or those who may struggle with the fundamentals, such as forehand and backhand technique and consistency.
Coaching includes drills and games to steadily introduce players to the game. As well as teaching the basics of stroke play, how to serve and how to keep score.
Book a Weekly Padel Drill
Weekly Padel Drills are ideal for trying out padel for the first time and a great way to steadily introduce players with different focuses on specific elements of the game.
Beginner Drills will focus on specific elements of the game and often include a coffee or drink afterwards so you can socialise and meet other players.
Make new friends and socialise with fellow new comers with midweek and weekend drills available to book up to 7 days in advance.
Book a Private Padel Lesson
Private lessons are the fastest way to improve your game. Available as one-to-one or on a small group basis, lessons can be tailored to your individual needs.
Park Sports works with independent, highly experienced and professional LTA qualified padel coaches who can help you develop your technique and tactical game play.
Private Lessons for beginners will give you the chance to hit lots of balls and pick up key tips to improve your technique.